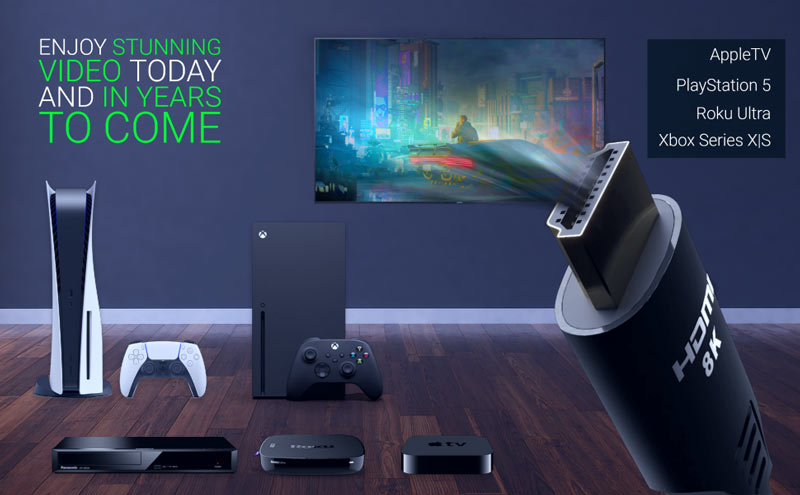 Manhattan 8K Ultra High Speed HDMI Cable with Ethernet – 10ft - Certified 2.1-4k 120hz, 8K 60hz, 48Gbps, Gold Contacts, Braided Cord
Stunning Hi-Def Video
Next-Gen Performance for Next-Gen Consoles: The Sony PlayStation 5, PlayStation S Digital Edition, Microsoft Xbox Series X, and Xbox Series S are all compatible with this cable. The Manhattan 8K Certified Ultra
High Speed HDMI Cable is also backwards compatible and may be used with any HDMI device that is already installed.
Highlights
Officially licensed, certified Ultra High Speed HDMI cable with state-of-the art, future-proof features for high-end AV and gaming applications
Supports 8K@60Hz, 4K@120Hz, 1440p@144Hz (WQHD) and 1080p@240Hz resolutions
Dynamic HDR for superior contrast and brilliant colors
Available in: 09/2023
Payment & Security
Your payment information is processed securely. We do not store credit card details nor have access to your credit card information.
Description
Certified Ultra High Speed HDMI Cable featuring future-proof 8K60 for high-end 2.1 AV and gaming applications
The superior Ultra High Speed HDMI standard of this Manhattan HDMI Cable makes you ready for the next generation of graphic challenges in audio/video, gaming, digital signage and other high-end applications.
Brilliant colors and contrast with Dynamic HDR and Dolby Vision™
This cable is officially licensed and certified to deliver images in brilliant 8K (7680 x 4320) at rapid 60 Hz or 4K UHD at blazing fast 120 Hz with Dynamic HDR and Dolby Vision™ for perfect contrast and colors.
Crystal-clear sound with Dolby Atmos®
Both Dolby Atmos and eARC support work together to deliver audio in unparalleled clarity and depth through as many as 32 channels.
Double shielding and gold-plated contacts
Its braided-fabric jacket makes this cable virtually tangle-free and extremely durable. The double shielding (aluminum foil and Mylar braid) and gold-plated contacts provide maximum signal integrity as well as crisp, clear signal transmissions with zero EMI interference. Thanks to the integrated HDMI Ethernet Channel (HEC), the cable includes Internet connectivity for home entertainment devices. Use it with every HDMI device - TVs, projectors, monitors, notebooks, PCs, AV receivers, streaming boxes, game consoles, PlayStation® (PS4/PS5), Xbox® (One/One X/Series S/Series X), Blu-ray players and more.
Officially licensed, certified Ultra High Speed HDMI cable with state-of-the art, future-proof features for high-end AV and gaming applications
Supports 8K@60Hz, 4K@120Hz, 1440p@144Hz (WQHD) and 1080p@240Hz resolutions
Dynamic HDR for superior contrast and brilliant colors
Supports Dolby Vision™ and Dolby Atmos®
Gold-plated contacts for corrosion-free connections
Foil and braid double shielding to reduce EMI and other interference sources
Up to 48 Gbps bandwidth
4:4:4 chroma subsampling
Braided, tangle-resistant cable design
Enhanced Audio Return Channel (eARC) to allow TV's audio to transmit through your audio system without a separate audio cable
eARC to support the most advanced audio formats and highest audio quality (full compatibility only with HDMI 2.1 products)
HDMI Consumer Electronics Control (CEC) so one remote can be used with all compatible HDMI devices
HDMI Ethernet Channel (HEC) to add network connectivity to an HDMI link without a separate Ethernet cable
Enhanced features include Variable Refresh Rate (VRR), Quick Media Switching (QMS), Quick Frame Transport (QFT) and Auto Low Latency Mode (ALLM)
Compatible with every HDMI device - TVs, projectors, monitors, notebooks, PCs, AV receivers, streaming boxes, game consoles, PlayStation® (PS4/PS5), Xbox® (One/Series S/Series X), Blu-ray players and more
HDCP 2.3 compliant
Uncompressed 32-channel audio
Lifetime warranty